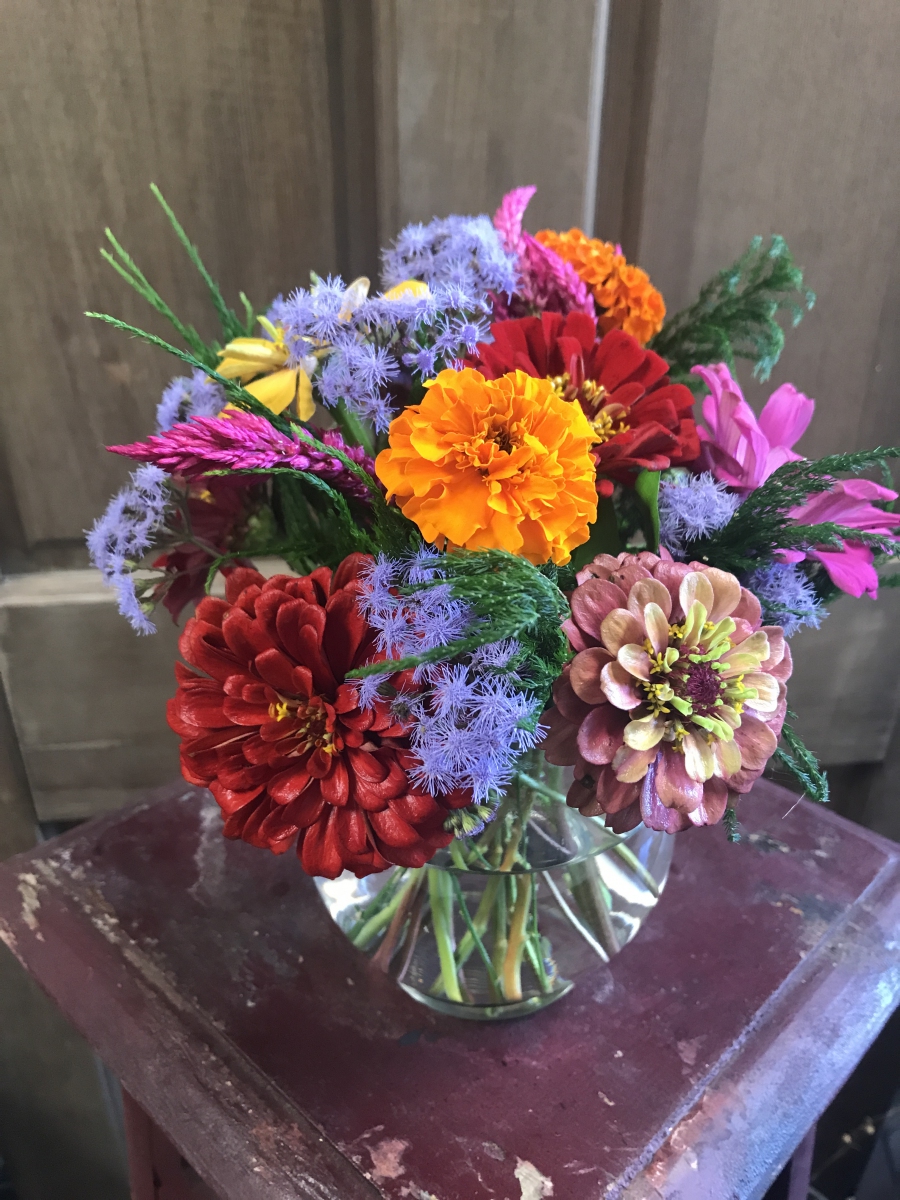 MSU Extension programs provide learning, outreach and research for consumers, retailers, wholesalers and producers.  Dr. Jim DelPrince leads these programs and he can be reached at j.delprince@msstate.edu. 
Floral Enthusiast
This program offers educational programs benefitting those who want to experience floral design more closely.  This is achieved through the offering of short duration workshops (usually two hours) for those who want to create a beautiful floral design to keep or give to a friend. No experience is necessary.  Floral enthusiasts are amateurs in the best sense, those who love flowers.  These workshops are also excellent for Master Floral Designers' continuing education. 
The MSU Extension Master Floral Designer program offers certificate-level training in the foundations of floristry.  It consists of three components which include lectures & demonstrations, hands-on practice, and the completion of 40 volunteer hours.  Those who complete the program learn the basics of floral design, including several projects using fresh flowers, dried flowers and numerous mechanics and accessories along with design principles and elements.  Volunteer hours consist of non-profit promotion of floral design.  This program is similar in scope to the Master Gardener program.  Both consumer and professional-level floral designers will find great value in this intensive learning program. 
Professional Florist
Professional floristry requires adept usage of updated mechanics and techniques in order to maintain consumer appeal and satisfaction.  Professional floristry is a creative industry, but must use sound business practices in order to generate revenue and profits.  This program benefits those who are seeking floristry careers as well as those who sell flowers and related floral materials for a profit. 
Farmer/Grower/Producer
Mississippi's climate allows for the production of marketable plant materials for floral design.  This program spotlights Mississippi-grown/produced floral materials and related products. 
FAQs
Upcoming workshops and registration information available at

https://register.extension.msstate.edu/floral-design

See individual programs for workshop locations, dates and times. 

Payment holds a space in each workshop. 

We do not maintain waiting lists at this time. 

Class sizes are limited, so be sure to register early. 

Refunds cannot be made once registration is completed. 

If you cannot make a program, consider giving your registration to someone or make arrangements to collect your materials.  Master Floral Designers may not share their registration or space with others. 

No advanced training is necessary for any program.

Participants must be at least 18 years.

Participants must bring their own tools to classes (pruners, scissors, and floral knife) with the exception of Master Floral Designer program where tools are provided.
More information about the Floral Design Program
Programs of Mississippi State University Extension Service are open to all people, without regard to race, color, religion, sex, national origin, age, disability, veteran status, sexual orientation, or group affiliation. If you have questions regarding MSU Extension's non-discrimination policies, contact: designated Human Resource Management at 662.325.3713
MSU Extension will provide reasonable accommodations to persons with disabilities or special needs. Please contact our office (Dr. James DelPrince, 228-546-1011, j.delprince@msstate.edu) prior to a program or event to request reasonable accommodation