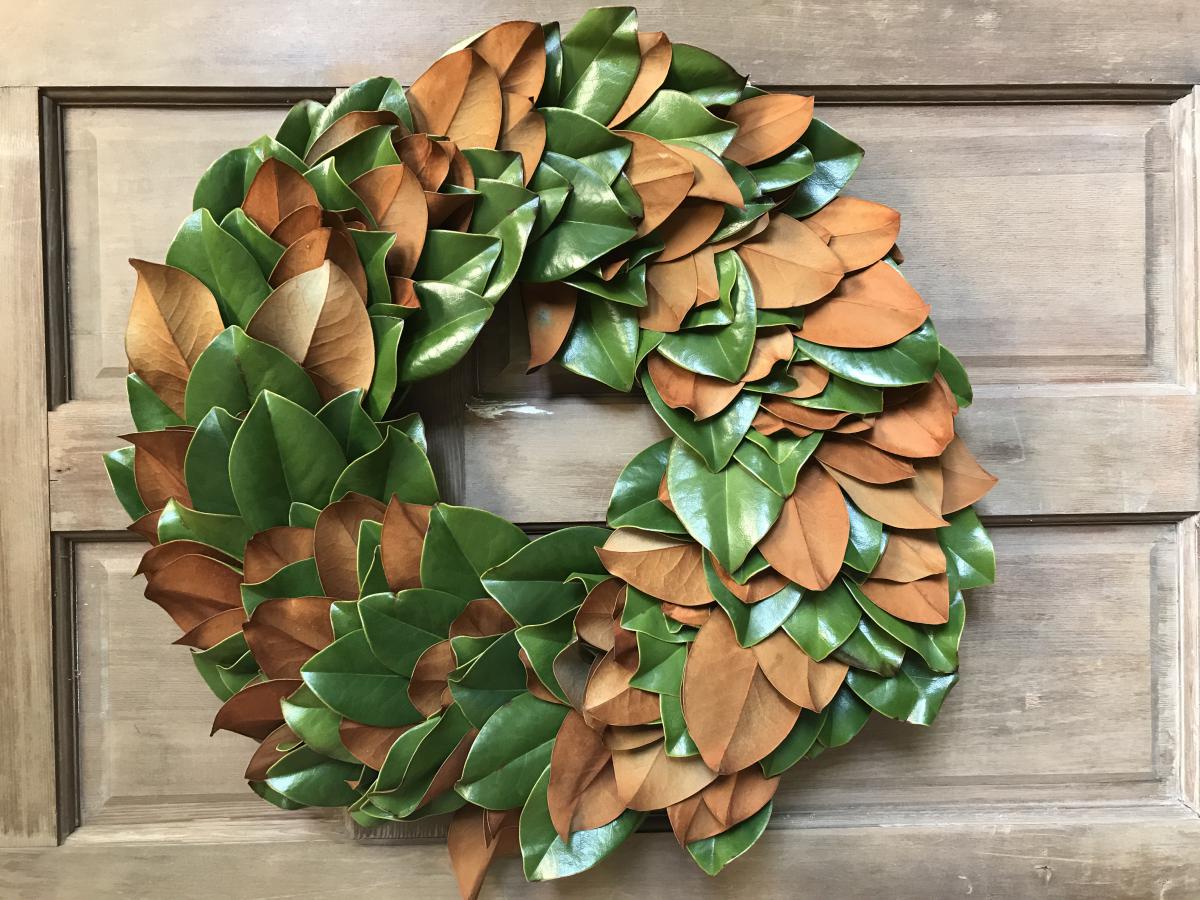 The MSU Coastal Floral Wreath.
A hand made design featuring the South's most beautiful foliage, Magnolia grandiflora. This design was selected by MSU Coastal Floral Extension Specialist, Dr. Jim DelPrince. 24 inches outside diameter, inside diameter 16 inches inside To extend the display time of the wreath, keep it in a cool place and avoid extreme heat or cold. Avoid direct sunlight to extend the deep green color. It will stay fresh indoors for about one week. Outside, in cool weather, it will retain its deep green color for two or more weeks. You can enjoy your wreath in its preserved state. If displayed indoors, the wreath will dry in about one week. If used outdoors, it will dry in about three weeks. When dried in the sun, the leaves will take on an earthy, rusty color. Indoors, they will become a soft, celadon green. You will want to display the dried wreath year-'round!
Price each $125.00.
Pick up at MSU Coastal or ship via FedEx Ground (about one week)
Price of wreath includes shipping. 
Dimensions are 24 inches diameter outside, 16 inches inside.
Mississippi residents' will have tax deducted from retail price. 
Questions? j.delprince@msstate.edu
Order deadlines:  December 1 for receipt the week of December 4-8 and December 8 for receipt the week of December 11-15.
This handmade wreath is made from Magnolia grandiflora leaves, the official flower of the State of Mississippi, the Hospitality State. Enjoy your wreath in its fresh state: To extend the display time of the wreath, keep it in a cool place and avoid extreme heat or cold. Avoid direct sunlight to extend the deep green color. It will stay fresh indoors for about one week. Outside, in cool weather, it will retain its deep green color for two or more weeks. Enjoy your wreath in its preserved state: If displayed indoors, the wreath will dry in about one week. If used outdoors, it will dry in about three weeks. If dried in the sun, the leaves will take on an earthy, rusty color. If dried indoors, they will become a soft, celadon green. You may want to display the dried wreath year-'round! Selected by Dr. James DelPrince, Horticulture Specialist, Floral Design, Mississippi State University Extension Proceeds support MSU Extension Coastal Floral Education Program