Current Projects
End-user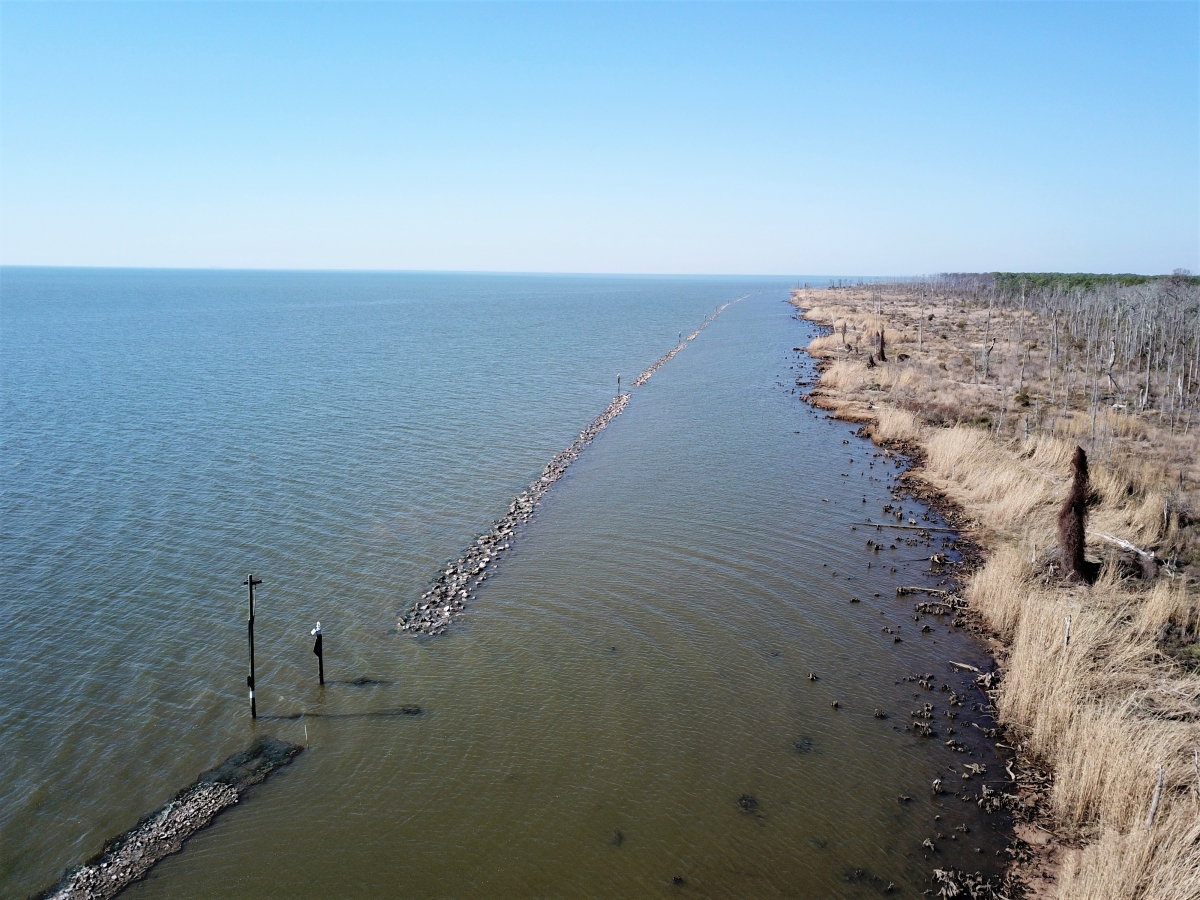 derived research to improve the effectiveness, sustainability, and prevalence of coastal restoration projects
Shoreline erosion is a major concern of coastal land managers. To combat erosion, land managers often install nearshore breakwaters to attenuate wave energy. These breakwater projects are often termed living shorelines, due to the perceived increase in secondary productivity around the breakwaters and preservation of natural shorelines. However, evaluations of the effectiveness of breakwaters at preserving and enhancing natural shorelines are limited. To evaluate the effectiveness of large-scale breakwaters at enhancing shoreline vegetation and associated ecosystem services in high wave energy environments, we are engaging with an advisory panel of stakeholders to conduct experimental plantings and a shoreline monitoring program landward of old breakwaters (constructed in 2012), recently constructed breakwaters (constructed in 2017), and reference no breakwater sites along Bon Secour Bay, AL. Information gained from this research and will be combined with pre-existing literature to create publications and user-friendly outreach materials that will be distributed as manuals, workshops, and meetings for private property owners, contractors, and agencies. The research and outreach associated with this project will improve the effectiveness and ease of implementation of coastal restoration projects. This project is funded by the NERRS Science Collaborative Program.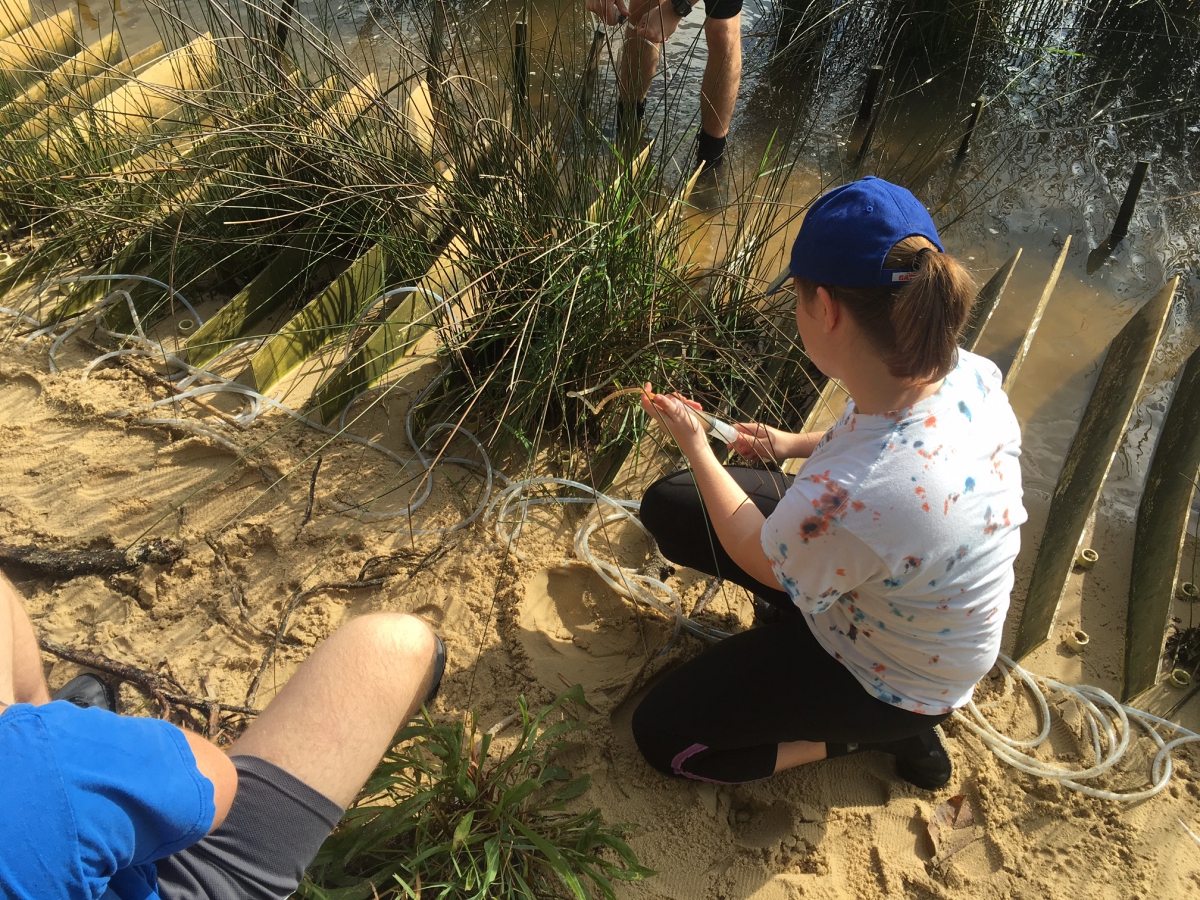 Reducing runoff pollution in coastal waters through marsh restoration: a decision support tool for stakeholders
The main goal of this project is to carry out a cost-effectiveness analysis of how various marsh restoration designs ranging in plant density, platform slope and sediment grain size perform in terms of reducing runoff pollution under current and elevated sea level. With this information we will build a decision support tool to help managers maximize the reduction of runoff nutrient pollution through marsh restoration given their specific time and budget constraints. To accomplish this we are working closely work with an advisory panel comprised of environmental officers and managers representing a wide variety of agencies that deal with issues of coastal pollution and wetland restoration. Through this intense collaboration and training, the Panel are vested in the design, development and applications of the decision support tool. Most importantly, through their professional networks they will disseminate and instruct others how to use the tool, thereby having far-reaching implications for the protection and restoration of wetlands and applications for environmental betterment throughout the Gulf of Mexico and other US coastal areas. This project is funded by the EPA Wetlands Program.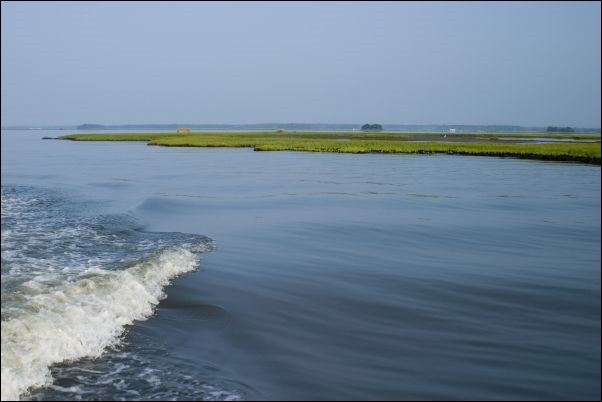 Low-cost wave and flow gage development and application
Measuring waves and currents is critical for understanding coastal processes, such as hydrodynamics, sediment transport, and bio-physical interactions. However, coastal waves and currents are notoriously difficult and expensive to measure because of the harsh environment and variation in both time and space. The objective of this project is to develop and test an affordable wave and current sensor that is capable of measuring both small coastal waves in shallow environments and larger waves for offshore applications. This technology will equip us to better understand estuarine hydrodynamic processes, and as a result improve our management of estuaries and coastlines for conservation, restoration, sustainability, and resiliency. Portions of this project are funded by the NERRS Science Collaborative, EPA Wetlands, and the MSU Special Research Initiative Programs.
DIY wave gauge website (includes code, tutorials, supply lists, etc.) - http://coastal.msstate.edu/waves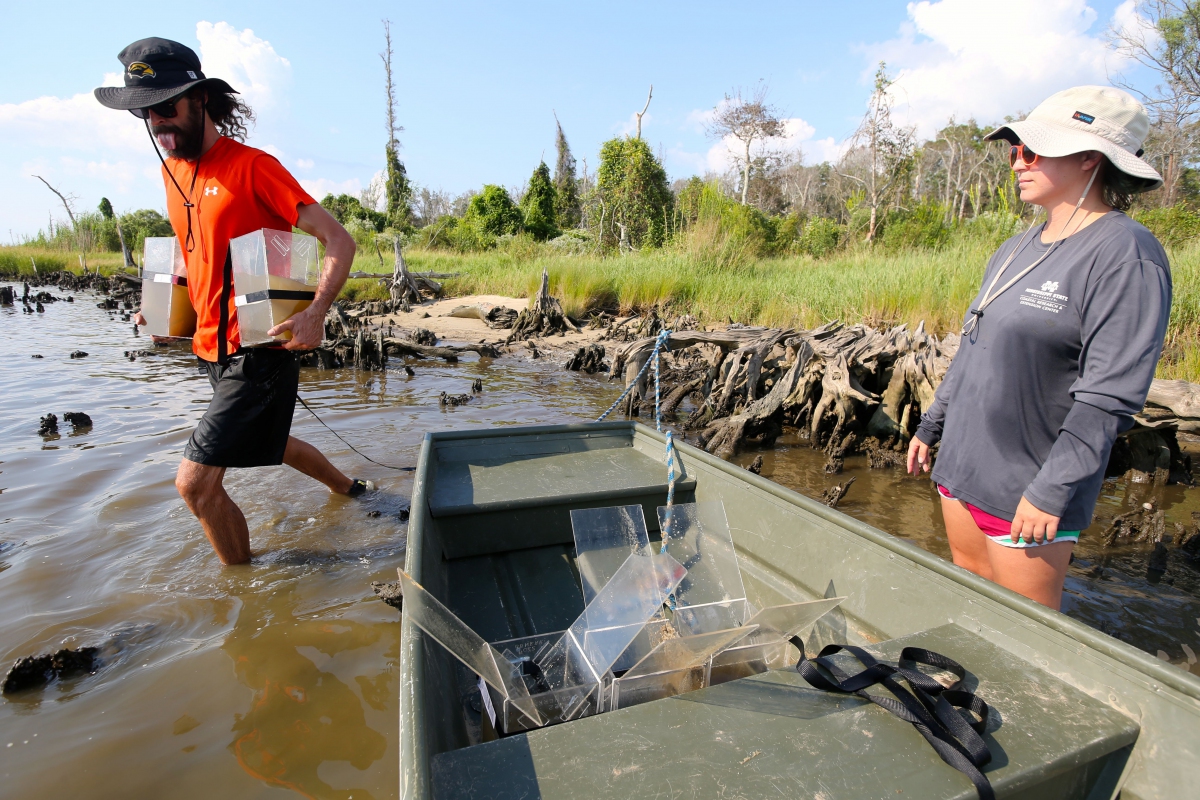 Faunal assemblages associated with living shorelines and implications for high-wave energy ecosystems
The primary goal of this study is to evaluate the effectiveness of different shoreline restoration techniques at providing faunal habitat in high wave energy environments. To achieve this goal, we are conducting experiments focused on addressing the three research objectives below.
Determine the influence of large-scale breakwaters on infauna, epifauna, and nekton assemblages in high-energy environments.

Determine the effect of shoreline state (planted, naturally colonized, or unvegetated) on infauna, epifauna, and nekton assemblages in high-energy environments.

Determine if breakwaters and shoreline plants are complementary enhancers of nearshore faunal communities.
This project is funded by the NERRS Science Collaborative Program.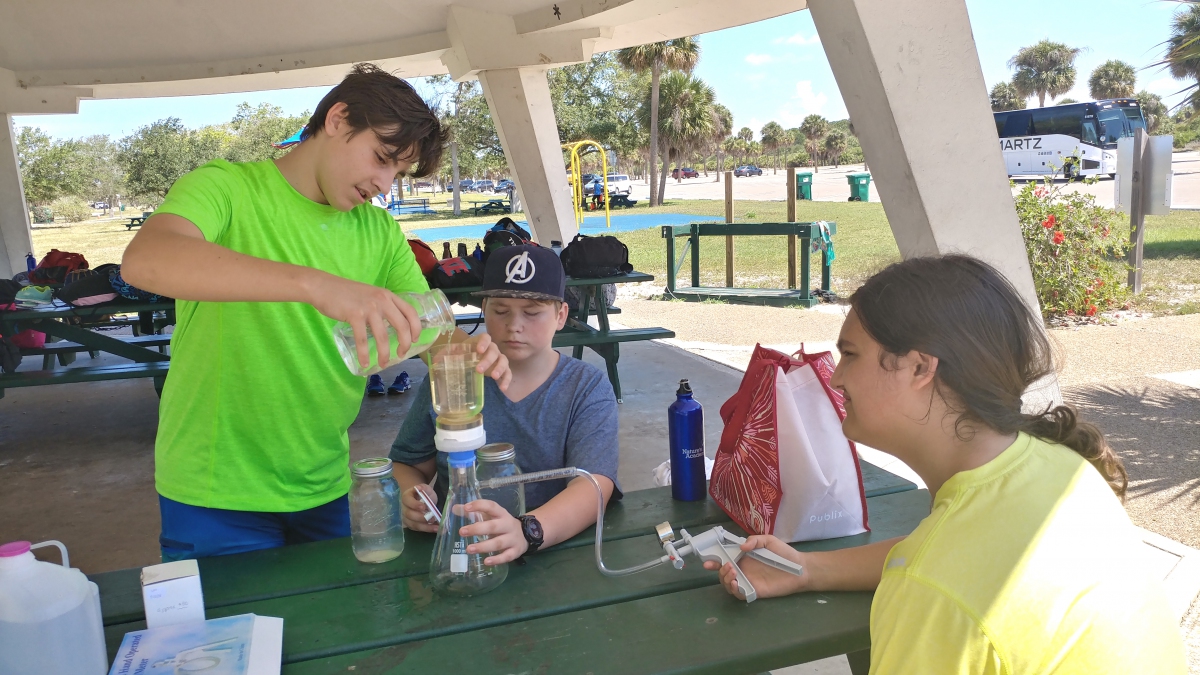 Engaging citizen scientists to assess large scale microplastic distributions
Marine debris is a global issue that significantly reduces the quality of life in coastal environments. However, few education, outreach, and research projects address marine debris and public perception of debris issues has remained relatively unchanged. The masses are hesitant to alter their attitudes toward responsible debris disposal due to the lack of proven links to aspects of coastal life they care about. The primary goal of this project is to increase awareness of marine debris issues by connecting with and involving the public in a citizen science based monitoring project. To do this we are providing sampling gear and training support for participating organizations to train citizen scientists. Across the U.S. Gulf of Mexico, ranging from Corpus Christi, TX to Key Largo, FL, 13 organizations are participating in training local citizen scientists to collect and process beach and ocean water samples for microplastics. The data generated by this project is being used to produce a Gulf-wide microplastics distribution map, accessible online. This project is funded by the Gulf of Mexico Alliance Gulf Star Program.
Citizen Science Microplastic Sampling Map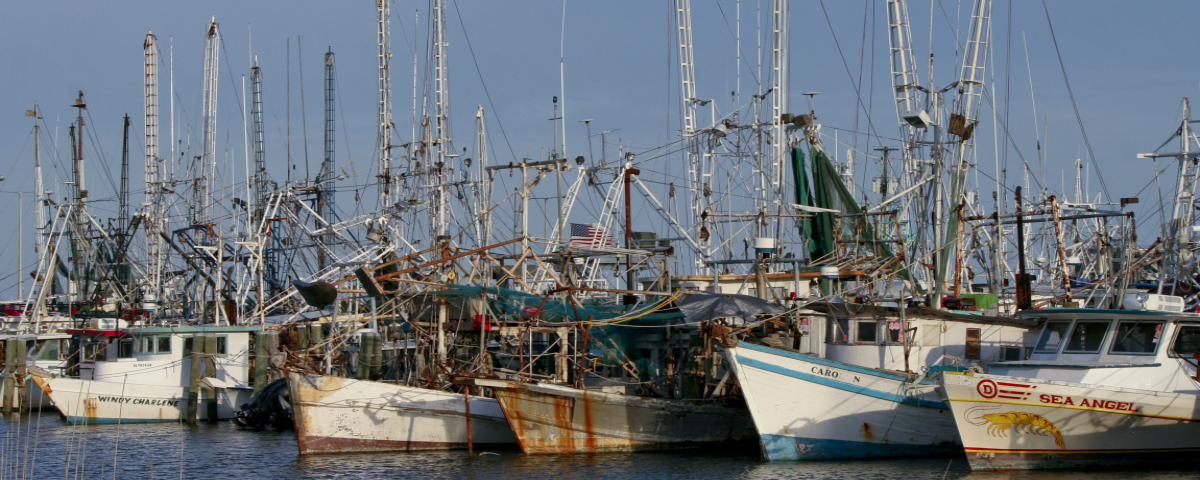 Engaging the fishing community to remove marine debris and quantify impacts
Mississippi State University, Mississippi Coalition for Vietnamese-American Fisher Folks & Families, Mississippi Commercial Fisheries United, and the Dauphin Island Sea Lab are working together to reduce and characterize the impacts of marine debris in Mississippi Sound. To achieve these goals, we are establishing an incentive program to encourage fishermen to properly dispose of caught marine debris; recruiting and training commercial fishing crews to collect information on marine debris distribution; and conducting an economic impact analysis of marine debris on the commercial fishing industry. This project is funded by the EPA Gulf of Mexico Program.
Plastic Free Gulf Coast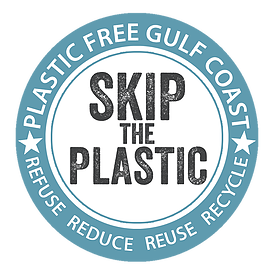 A team led by Mississippi State University is working to stop single-use plastic before it becomes part of the waste stream by raising awareness and creating a larger market for alternative products available to restaurants and consumers. Our program is working with the larger Plastic Free Gulf Coast group to collect data on single-use plastic-use in restaurants, surveying restaurant customers to determine their willingness to pay for environmentally friendly alternatives, perform market feasibility analysis for restaurants to convert to biodegradable packaging alternatives, and raise awareness of the environment impacts of single use plastics on the environment. Components of this project are funded by the Gulf of Mexico Alliance Gulf Star Program and the NOAA Marine Debris Program.
Overco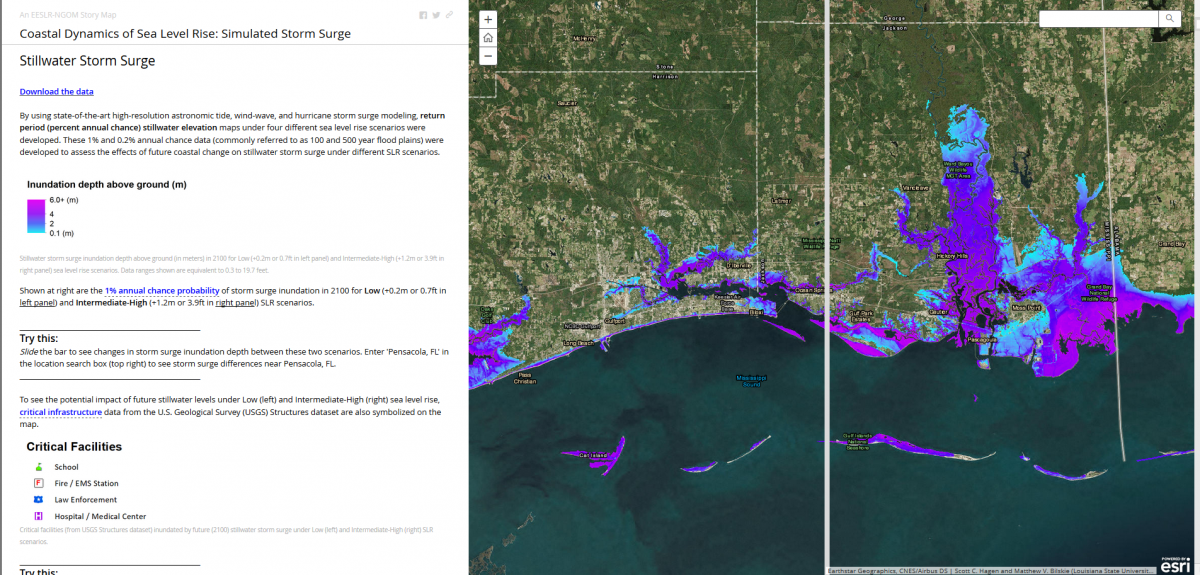 ming financial and communication barriers to sea-level rise resilience in Northern Gulf of Mexico coastal communities
Sea-level rise will have impacts across multiple facets of coastal living; however, coastal communities often struggle to access information or financial resources to prepare for sea-level rise (SLR). This goal of this project is to provide locally relevant information on SLR and provide a small grant opportunity for communities to take action. The project will develop a series of SLR resilience videos for local officials and communities. Five case studies will be showcased in five different videos, with an explanation of how each case study is relevant for the northern Gulf. Additionally, three "101" style videos will describe SLR in the northern Gulf, how SLR will change storm surge, and how SLR intersects with various types of planning. After the videos have been released, an RFP will be released for local communities to seek resources to complete similar actions as described in the case study videos, helping to pursue their own resilience to SLR. To learn more about the project contact Project Coordinator Mikaela Heming (m.heming@msstate.edu). Funding provided by the NOAA Regional Coastal Resilience Grant Program.
Local SLR two-pager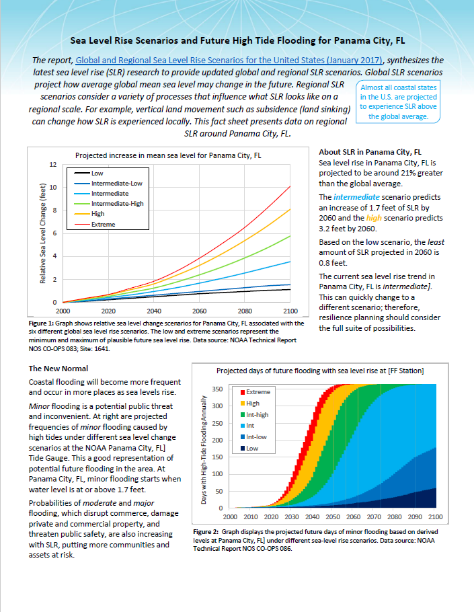 Recent research has described projected SLR scenarios at the local level across the U.S. and U.S. territories (Sweet et al., 2017). Additionally, new analyses have identified how high-tide flooding will increase on the various scenarios at each location (Sweet et al., 2018). These recent scientific advancements are very important for local officials and natural resource managers for planning purposes; however, the data are difficult to easily access and interpret in report form. The Sentinel Site Cooperatives have developed a suite of Microsoft Office files that allows for a quick and consistent development of two-pagers designed to communicate SLR scenarios, days of future high-tide flooding, and how to utilize this information when planning. The target audience of this project are extension and outreach professionals. To learn more and access the two-pager files visit http://masgc.org/northern-gulf-of-mexico-sentinel-site-co/two-pager.
NGOM+N2E2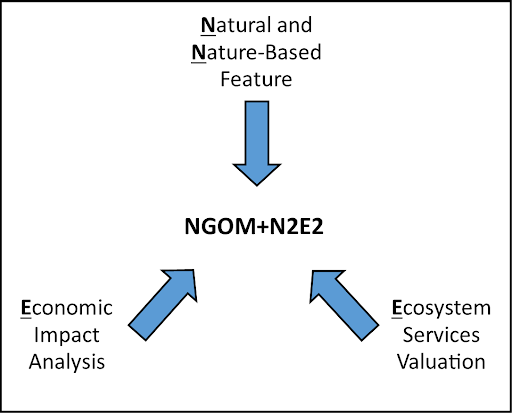 This project expands the coastal dynamics of sea-level rise (CDSLR) model to include ecosystem service valuations, economic impact assessments, and more. It will also evaluate tradeoffs of potential natural and nature-based features under different sea-level rise scenarios. Contact Dr. Scott Hagen at shagen@lsu.edu, read this article or visit the project website for more information.
Expanding coastal community capacity for climate change adaptation
The Climate and Resilience Community of Practice (CoP) is a network of coastal communities and outreach and extension professionals working together to adapt to climate change in the coastal zone through the exchange of ideas, opportunities, and expertise. With this project, project team members plan to work on key environmental and economic challenges associated with flooding. We will develop a survey for CoP members to prioritize actions for community project implementation, form working groups, collaborate with local communities to execute next steps, and develop video case studies to share best practices and lessons learned. This project is intended to help coastal communities become more resilient by pairing climate scientists with practitioners, local decision makers and other technical experts to solve real-world problems related to coastal flooding, saltwater intrusion, and climate communication. To learn more contact Project Lead Dr. Tracie Sempier (tracie.sempier@gomxa.org). Funding provided by the National Academies of Sciences Gulf Research Program.
Under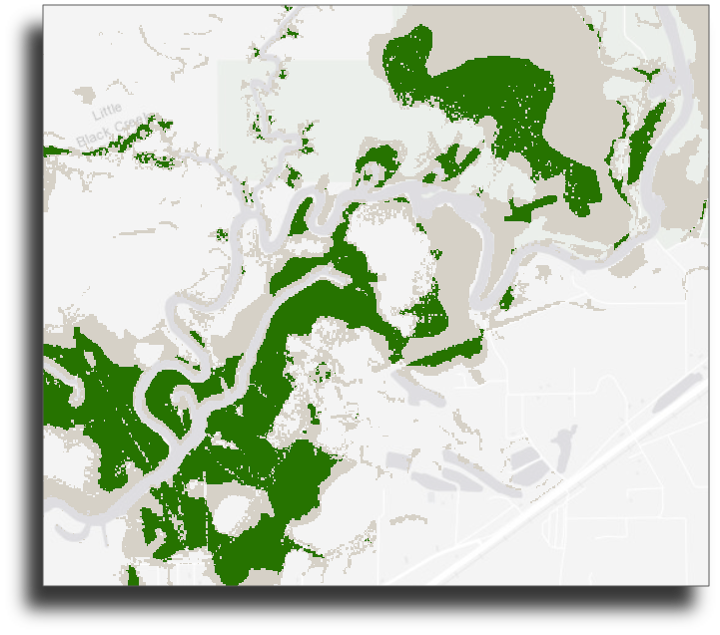 standing differences between outputs of models exploring impact of sea-level rise on marshes
There are many models available to natural resource managers to understand how sea-level rise (SLR) might impact marshes. Natural resource managers have asked for help understanding the differences between these model outputs and what it means for decision-making. Recently a workshop was held with marsh model experts and natural resource managers to explore comparisons of outputs from across the region. Models compared were: SLAMM, Hydro-MEM, USGS Tidal Saline Wetland Migration Tool, and the Louisiana Coastal Master Plan. Next steps in this effort include:
Development of products to provide guidance on marsh model result application

A retrospective analysis of the marsh models utilizing the same data inputs

Program.
Seeding wetland restoration and conservation in Mississippi high schools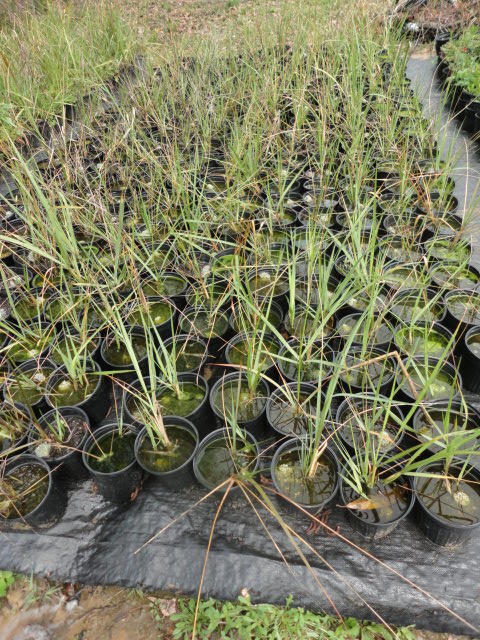 A multidisciplinary team of wetland ecologists and educators are working together to implement a wetland nursery and education program for high schools in coastal Mississippi. Disconnection from nature is apparent along coastal Mississippi, where many children live within miles of pristine natural landscapes, yet rarely, if ever, visit or learn about them. To build resilient and sustainable communities, it is necessary to improve scientific and environmental literacy and promote stewardship of natural ecosystems. The objectives of this project are to 1) develop a curriculum focused on growing wetland plants and the importance of protecting coastal wetlands, 2) establish wetland nurseries at three high schools in coastal Mississippi to pair with the curriculum, 3) take students on field trips to restoration sites to plant their nursery grown plants and obtain first-hand restoration experience, and 4) facilitate related student-designed research projects.
The res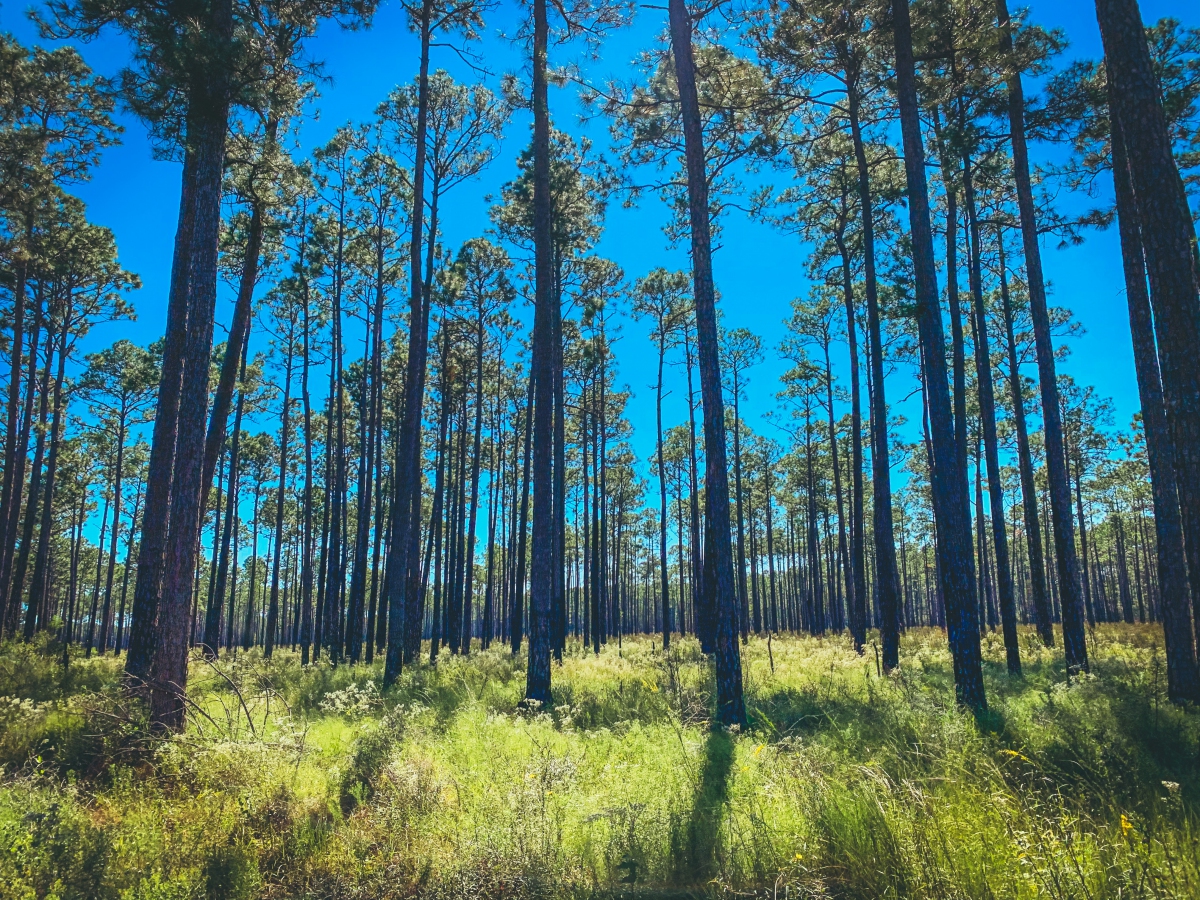 ponse of bats and their insect prey to different coastal upland habitat management techniques
Coastal uplands are home to a variety of flora and fauna, including bats. Bats play a crucial role within ecosystems, but global declines in some bat populations have reduced many of the ecological and economic services bats provide. The greatest threats bats face within the United States are habitat loss, disturbances causing loss of cave hibernacula and maternity roosts, decline of food resources, white nose syndrome, and wind farm turbines. Many forested areas are managed in efforts to improve overall forest habitat quality and increase biodiversity. Understanding how bats respond to land management induced changes within forest habitat is necessary for the conservation of these species. Recently, there have been several large-scale land management projects associated with oil spill funds, including the study site for this project – The Grand Bay National Estuarine Research Reserve (GNDNERR), in Jackson County, Mississippi. This project will determine if the activity and diversity of bats and their insect prey is affected by different coastal upland land habitat management techniques, such as prescribed fire and mechanical clearing, within the GNDNERR. Analysis of bat diversity and activity will be assessed using acoustic surveys using bat call recorders placed within recently burned, mechanically cleared, and unmanaged areas. Black light traps will be used to trap night flying insects and malaise traps will be used to trap day flying insects for analysis of abundance and diversity relationships among potential bat prey between the land management techniques. Findings from this study could be used to inform land managers of the potential benefits and impacts of land management practices on forest bats and their insect prey.
Past Projects
Coming Soon