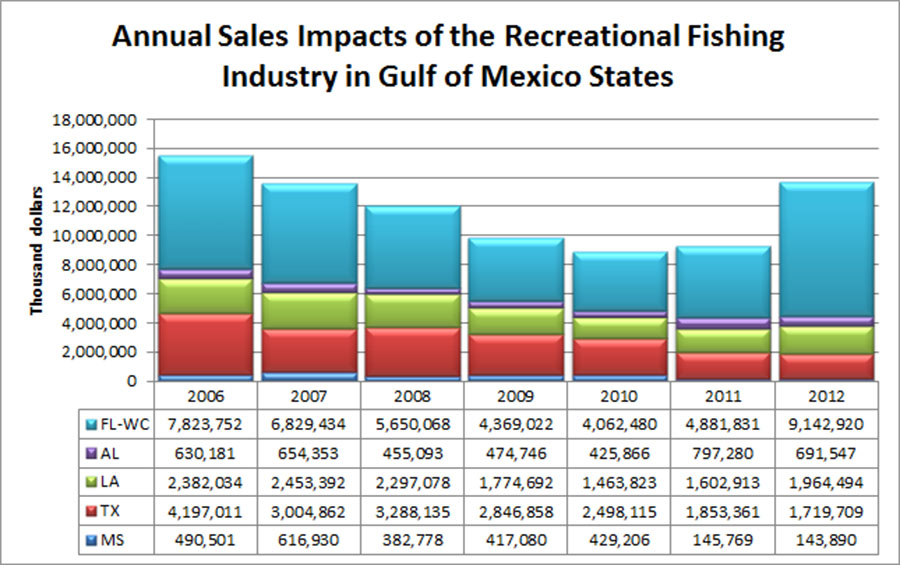 USFWS 2011 National Survey of Fishing, Hunting, and Wildlife-Associated Recreation
In 2011, 33.1 million U.S. residents 16 years old and older enjoyed a variety of fishing opportunities throughout the United States. Anglers fished 554 million days and took 455 million fishing trips. They spent $41.8 billion in fishing-related expenses during the year. Freshwater anglers numbered 27.5 million. They fished 456 million days and took 369 million trips to freshwater in 2011. Freshwater anglers spent $25.7 billion on freshwater fishing trips and equipment. Saltwater fishing attracted 8.9 million anglers who enjoyed 86 million trips on 99 million days. They spent $10.3 billion on their trips and equipment.
NOAA 2012 Economic Impacts of the U.S. Saltwater Recreational Fishing Industry
In 2011, there were approximately 11 million recreational saltwater anglers across the U.S. who took 70 million saltwater fishing trips around the country. These anglers spent $4.5 billion on fishing trips and $22 billion on durable fishing-related equipment. These expenditures contributed $70 billion in sales impacts to the U.S. economy, generated $32 billion in value added impacts, and supported over 455,000 job impacts.