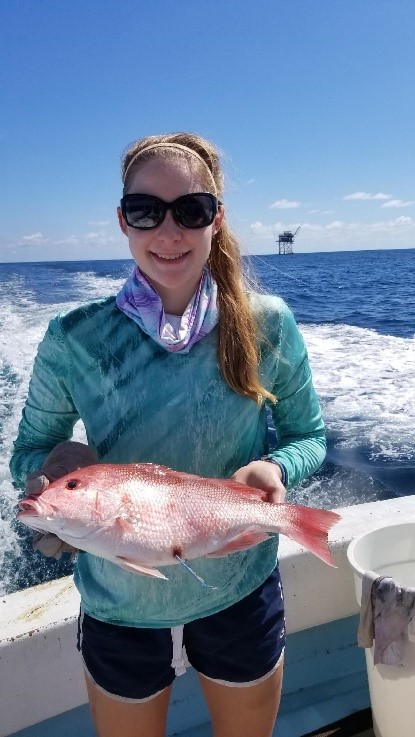 I am an Extension Associate with Mississippi State University and a Marine Fisheries Specialist with Mississippi-Alabama Sea Grant. Despite being born and raised in southeastern Wisconsin, I always had a love for the water and the marine environment. I competed as a varsity swimmer both in high school and college and to date have completed over 100 logged dives as an avid open water diver.
I pursued my undergraduate degree at East Stroudsburg University of Pennsylvania, where I earned two bachelor's degrees in Marine Science and Biology as well as a minor in Chemistry. Following my undergraduate studies, I went on to complete several internships prior to being offered a Staff Biologist position working with Mote Marine Laboratory and Aquarium and later with the Center for Shark Research in Sarasota, FL. I also worked as an aquarist with the Henry Doorly Zoo and Aquarium in Omaha, Nebraska.
In 2017, I made the decision to pursue my graduate degree at Auburn University. My thesis research was supervised by Dr. Stephen Szedlmayer and focused on Red Snapper abundance on oil and gas platforms in the northern Gulf of Mexico. I was fortunate to learn many varied lab and field techniques and to work with a variety of reef fish species through participation in other ongoing lab projects.
After graduating with my master's degree in December 2019, I worked as a Marine Fisheries Scientist for the Mississippi Department of Marine Resources. I primarily focused on the successful production of spotted seatrout at the Lyman Aquaculture Hatchery to restore and conserve this population. 
In 2021, I was fortunate to be offered a position working with Dr. Drymon at MSU's Coastal Research and Extension Center, where I assist with our bottom longline surveys and apply my familiarity with Gulf of Mexico fisheries to contribute to outreach and Extension efforts.